Qualche giorno fa sul blog del magazine Creative Review è apparso un articolo su un furto avvenuto nello studio newyorkese di Sagmeister & Walsh.
Sul loro account twitter S&W scrivono:
We are deeply saddened by this loss. Next time take the printer. http://t.co/g3J5gY7odt

— Sagmeister & Walsh (@sagmeisterwalsh) April 16, 2015
Il sito di Sagmeister & Walsh è noto per la sua home page che mostra, con una webcam posizionato in alto, in streaming l'interno di una delle stanze dell'ufficio.
L'articolo descrive il furto e mostra le riprese della webcam che immortala il momento in cui i ladri entrano e portano via i "lavori".
Conoscendo Sagmeister & Walsh in molti hanno pensato subito a qualche scherzo. Di scherzo si tratta, ma la burla non è stata messa in scena da loro ma dallo studio grafico di Barcellona Achos.
La pagina del post su Creative Review non era una pagina di Creative Review ma una pagina ridisegnata in modo identico per l'occasione, l'url ha il suffisso .info e non con .co.uk come l'originale.
L'immagine della home di S&W è stata ricostruita in casa da Achos che ha poi simulato il "furto" di work.
Il vero blog di Creative Review racconta l'intera vicenda e intervista gli autori del "furto".
[quote]We've been huge admirers of the work of Sagmeister & Walsh since we were students. The idea for the 'robbery' had been in our heads for a long time. We wanted to demonstrate that we're young, we're hungry, and we're coming to take the work that's currently going to the top agencies in the world. We thought going into their studio and stealing their work was a good declaration of our intentions. So we went into their studio and stole their work.[/quote]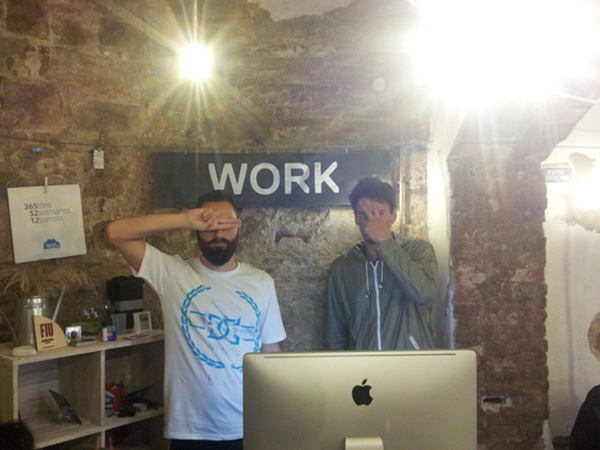 All'inizio i ragazzi di Achos hanno temuto la reazione di Jessica Walsh, che era proprio a Barcellona quando hanno cominciato a far girare il il falso link che parlava del furto, ma la Walsh è stata subito al gioco e ha reso il tutto ancora più credibile.