La campagna #ihavethisability degli studenti IED per Durex supera il tabù su sesso e disabilità 
Un nuovo racconto della sessualità in condizioni di disabilità: I can't stand up but I can be on the top. I can't see but I can make you see the stars. I can't drive but I can ride.
Sono alcuni dei messaggi alla base della campagna vincente #ihavethisability, realizzata su brief del brand Durex nell'ambito del premio dedicato a giovani talenti che si affacciano al mondo della comunicazione creativa, i D&AD New Blood Awards, e che si è aggiudicata il secondo posto (argento) nella categoria New Blood Entry. Ne sono autori Giulia Teruzzi e Joshua Mancini, studenti IED Milano al terzo anno di Design della Comunicazione (specializzazione in Art Direction), seguiti dai docenti Matteo Grandese e Alessandro Candito. 
L'originale campagna creativa che ha convinto la giuria internazionale punta in modo chiaro a un intento ben preciso: ridurre il "gap" tra disabilità e sessualità con una comunicazione che "normalizzi" il tabù e mostri come, nella misura in cui è sicuro, il sesso sia "bellissimo in tutte le sue forme". Anche quando sembra essere escluso dalla vita degli individui a causa di una non abilità fisica. 
#ihavethisability dunque, campagna a 360 gradi ideata dai due futuri designer della comunicazione uscenti dall'Istituto Europeo di Design, si sviluppa con una serie di messaggi (declinati su affissioni e comunicazione video) che mettono in luce come le persone disabili sviluppino "abilità altre" per compensare quelle mancanti: una persona non vedente, ad esempio, può sviluppare un senso del tatto estremamente forte. Gli studenti hanno quindi dato voce a persone disabili mostrando come queste disabilità possono mutarsi in altre abilità, da sfruttare anche a letto. 
L'argento agli studenti IED Milano negli Entry del premio New Blood Awards 2020 è l'ultimo di una lunga serie di riconoscimenti a livello nazionale e internazionale raccolti negli ultimi due anni dall'area Comunicazione IED Milano, tra cui il premio di miglior Scuola creativa d'Italia.
Durex wants to bridge the perceived gap between disability and sexuality with a campaign that aims to normalize taboos and prove that, as long as it's safe, sex is beautiful in all its forms. We found out that disabled people usually develop different abilities in order to compensate for the missing ones. For example, a blind person can develop a strong sense of touch. In order to give voice to disabled people we designed a 360° campaign that shows how their disabilities can easily turn into dirty abilities to use in the bedroom.

Credits
Creative Team
Giulia Teruzzi, Joshua Mancini
Tutor
Alessandro Candito, Matteo Grandese
Istituto Europeo di Design, Italy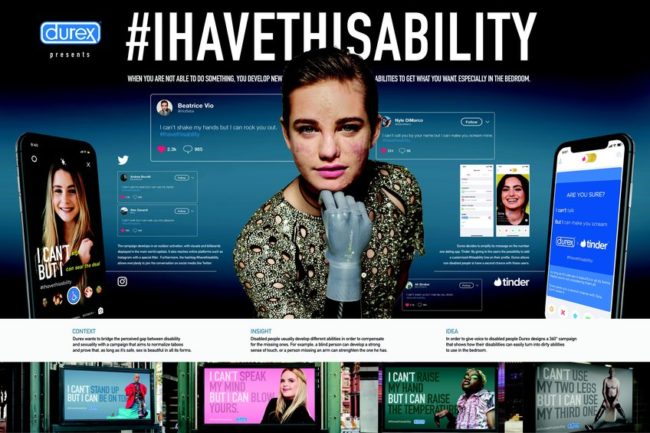 [ img via dandad.org ]